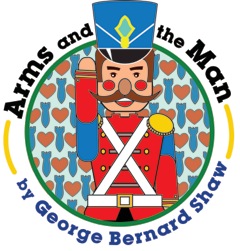 Shaw's wittiest work
Veteran Canadian theatre critic Jamie Portman writes: "Perth's Classic Theatre Festival has mounted a robust revival. All the characters are excellent company in this production...a polished and likeable revival of an endearingly likeable play." 
"Arms and the Man in Perth: A Delight from beginning to end!" - Iris Winston, Capital Critics Circle
Directed by Laurel Smith
Set Design by Lois Richardson
Lighting Design by Wesley McKenzie
Costume Design by Renate Seiler
Sound Design by Matthew Behrens
Production Manager: Wesley McKenzie
Stage Manager: Alison Muir
Technical Assistant: Vincent Bracegirdle
Production Assistant: Emily Richardson
Starring:
Lana Sugarman as Raina Petkoff
Catherine Bruce as Catherine Petkoff
Scott Clarkson as Bluntschli
Alastair Love as Major Petkoff
Lindsay Robinson as Sergius
Rachel Fischer as Louka
Alan Lee as Nicola/Soldier
---
George Bernard Shaw's Arms and the Man is a delightful comedy satirizing the futility of war. George Orwell called it "the wittiest play" Shaw ever wrote. The play centres on a naive, patriotic and idealistic young woman who falls for a soldier from the "other side."
---
Arms and the Man Photo Gallery