THANK YOU TO EVERYONE WHO ATTENDED "COME BLOW YOUR HORN"!  WE SO APPRECIATE YOUR ATTENDANCE, AND LOOK FORWARD TO SEEING YOU IN 2015!  WATCH FOR OUR ANNOUNCEMENT SOON ABOUT OUR 2015 SUMMER SEASON OF CLASSIC PROFESSIONAL THEATRE IN HERITAGE PERTH!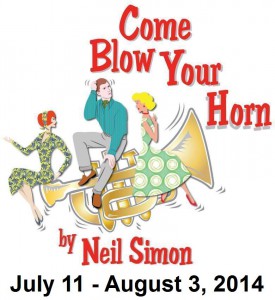 A swinging '60s comedy
The Festival's  fifth anniversary season opens with the Neil Simon comedy Come Blow Your Horn, a hilarious satire on the early 60's swinging bachelor lifestyle that launched this prolific playwright's Broadway career. It promises many of the classic characters and comic moments that are Simon trademarks.
Directed by Laurel Smith
Set and Lighting Design by David Magladry
Costume Design by Renate Seiler
Production Manager Andrew Brodkin
Stage Manager Maureen Callaghan
Starring:
Lindsay Robinson as Alan Baker
Matthew Gorman as Buddy Baker
Adrienne Kress as Connie Dayton
Allan Price as Mr. Baker
Joanna McAuley-Treffers as Mrs. Baker
Heather Marie Annis as Peggy Evans
Previews   July 11 at 8pm, July 12 at 2pm
Opening   July 12 at 8pm
Performance Times:
Wed. to Sat. at 8pm
Wed., Thurs., Sat. and Sun. matinees at 2pm
Prices:
Adult: $30
Youth under 30: $21 (30% off)
Previews: $27 (10% off)
Groups of 10-19: 10% off
Groups of 20 or more: 20% off
All tickets subject to a $3.50 box office fee.
Tickets and Information:
1-877-283-1283, ext. 1
ticketsplease.ca
Tickets Please, 39 Foster St., Perth
Our NEW Venue!
For directions, click HERE.
For Dial M for Murder, click here.
COME BLOW YOUR HORN is presented by special arrangement with SAMUEL FRENCH INC.