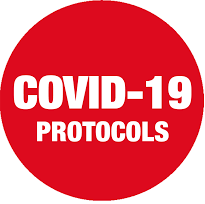 Because we believe theatre should be accessible to all, the baseline for pandemic health protections at the Classic Theatre Festival is straightforward and in keeping with our values, which are rooted in community care. We seek to provide the safest possible environment for the most vulnerable among us, which would mean the immunocompromised, the elderly, and anyone else particularly susceptible to the ravages of COVID-19 and its multiple variants.
In consultation with our colleagues at the Professional Association of Canadian Theatres, Canadian Actors Equity Association, the Associated Designers of Canada, and public health authorities, the Classic Theatre Festival has developed a safety protocol to reassure our staff, our volunteers, our performers, and you, our guests, that we are taking all measures to minimize risk as we return to live theatre events.
Sadly, we do not anticipate the disappearance of the COVID virus in the near future, but we believe strongly that the many protection lessons we've learned over the past two years can serve us well as we return to live performance.
Throughout the pandemic, key recommendations from public health in congregate settings such as a theatre focus on good air circulation, masking, and physical distancing when unmasked.
Masking
Because a full capacity theatre (122 seats) does not allow for physical distancing, we are asking all audience members to respect the health needs of their fellow guests, our staff and volunteers, and the unmasked performers on stage, to wear a mask while inside the theatre. From the start of the pandemic, research has shown that masking is far and away one of the best measures we can take when we gather in congregate settings. Because COVID is airborne, it makes sense that masks would be worn inside the theatre space not only for the protection of staff, volunteers and theatre guests, but also for those who are unmasked: the performers themselves. While guests can temporarily unmask to drink coffee or eat an ice cream in the spacious lobby, hallway areas, or outdoors, we will ask that no food or drink be brought into the theatre space itself. In our survey of thousands of audience members, well over 80% requested that masking for staff and audiences be required. We plan to honour that request to ensure we minimize the risk to everyone.
Improved Air Circulation
The Arts Court air circulation system is a hot deck/cold deck system that continually brings in far more fresh air than many modern HVAC systems, with MERV-14 filters that remove almost twice the amount of particles as a standard filter. In addition, the Festival will be installing a series of True HEPA air cleaners (HEPA filters are the ones being installed in schools and other buildings throughout the province) as an additional layer of protection inside the theatre space itself as well as in the theatre lobby. Because COVID thrives on dry spaces, we will also be installing a number of humidifiers.
Sanitation/Hygiene
While the Arts Court building is maintained and cleaned by professional City of Ottawa staff, our own staff will add an additional layer of protection with continual cleaning of shared surfaces, provision of hand sanitizer, and distribution of extra masks for those who would like an additional layer or those who forgot their mask in their car or at home. Assistive listening devices will be thoroughly cleaned with isopropyl alcohol swabs after each use.
Vaccination Status
All of our staff and contract workers are mandated by our health and safety policies to be fully vaccinated and to have had their boosters to work here.  If required to do so by public health guidelines, we will request your vaccination status.
Preventing Spread
If you are unwell, we ask that you stay home and contact our Box Office to reschedule your trip to the theatre when you are in the clear. There will be no charge to change your dates. In fact, you will receive a round of applause from all of us for your courtesy in choosing not to spread what can be a vicious virus. As mentioned above, no food or drink will be consumed inside the theatre given the need to stay masked.
Box Office Contact:
613-695-9330