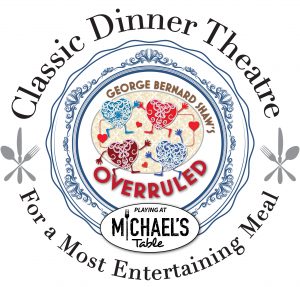 June 5 to August 28, 2018

Tuesdays from 5 to 7pm
Doors open at 4:45pm
Dinner served up to 5:15pm
Performance starts at 6pm

The popular revival of Dinner Theatre lands in Perth!

Michael's Table
110 Gore Street East, Perth, ON, K7H 1J3
Please note: Due to limited seating, we accept Advance Sales only online or by calling 1-877-283-1283. Thank you!
---
Every Tuesday evening this summer, the 2018 Classic Dinner Theatre and Michael's Table present the hilarious G.B. Shaw comedy, Overruled – about two couples confronted by an unconventional challenge – along with a sumptuous three-course, home-cooked meal. Performed by some of the region's most talented up and coming performers, this dinner theatre  experience will find you roaring with laughter as the plot thickens, savouring the last morsel of a scrumptious dessert, posting to Facebook about what a great time you've had, and leaving the venue with plenty of time to get home before sundown.
The Classic Dinner Theatre is a partnership between the award-winning Classic Theatre Festival, which produces hits from the golden age of Broadway and the London Stage, and Michael's Table, a downtown Perth 5-star favourite featuring home cooking at its best.
While dinner theatres sprung up after World War II and reached their heyday in the 1960s and 70s, they are enjoying a resurgence as companies like the Classic Theatre Festival and Michael's Table come together around shared values of artistic and culinary excellence, dedicated to providing you with something to tickle your funny bone, please your palette, and create a memory you'll enjoy long after the final curtain.
---
Tickets:
$48 per person includes a full 3-course meal and the performance of Overruled (includes all box office charges, taxes and gratuities).
Enjoy a full day experience of classic theatre and save 25% off the mainstage Tuesday matinee when you book along with the Classic Dinner Theatre for the same day!
Call 1-877-283-1283, or book online at ticketsplease.ca.
---
Our Mainstage Venue at 54 Beckwith Street East:
For directions, click HERE.
For There's Always Juliet, click here.
For Mrs. Warren's Profession, click here.
For Angel Street, click here.

Our Walking Plays Venue at Matheson House Museum, 11 Gore Street East:
For directions, click HERE.
For Perth through the Ages, click here.
For The Lonely Ghosts Walk, click here.
---