This historic walking play takes you through the streets of Heritage Perth, meeting the stories and the characters from the Town's rich past.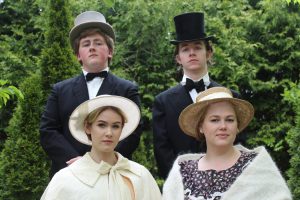 Every Wed. to Sun. at 11am
June 27 to August 26, 2018

Meet at Matheson House Museum
11 Gore St. E. in Heritage Perth
For directions, click HERE.

---
TICKETS:
Adults: $15 per person
($12 per person for Classic Theatre Festival ticketholders; proof of purchase required)
Children aged 12 and under: 50% off Adult Price
PLEASE NOTE: In the event of inclement weather, a decision regarding cancellation will be made one hour before each performance. Every effort will be made to notify advanced ticketholders of the cancellation.
---
2017 Perth through the Ages: A Nation Lost and Found
Starring: Keegan Carr, Emma Houlahan, Garrett Pipher and Connor Williamson, with Stage Manager Brooks Knapton.
In this historical re-creation, A Nation Lost and Found visits Perth residents as they go about their daily lives at the time of Confederation. What are they thinking and talking about with respect to the birth of a new country, the forced dispossession of Indigenous peoples' traditional territories, the dynamics of the 1837 rebellion and the debates over the Fenian Raids? How do they handle the always tender terrain of courtship, love, and marriage?
For Desmond Devoy's article in the Perth Courier, click here.
---
2016 Perth through the Ages: River of Memory

"I had the great pleasure of going on the Perth Through the Ages historical promenade performance, River of Memory, on 29th June. Now that I'm back home in the UK I just wanted to once again congratulate all the young players, all of whom were superb and most convincing in their roles. So much so that by the end of the story in Stewart Park both I and my cousin (who is local to you) were moved to tears (quite a lot of them). It was a compelling piece and just like watching the ghosts of times past playing out in front of our eyes. It also brought home the atrocious and dishonest treatment of the Algonquins back then, and the cruelty of true love being thwarted by inhumane social mores." – Gail Taylor, Brighton, United Kingdom
Enjoy the video of our 2016 Perth through the Ages play, River of Memory:

For pictures of this compelling play, CLICK HERE.
Read what Apt. 613 blog has to say about River of Memory!
---
2015 Perth through the Ages: The Maid and the Merchant

Check out this enthralling video of our 2015 walking tour, The Maid and the Merchant, the Perth through the Ages historical theatrical walking tour staged by the Classic Theatre Festival.
---
2014 Perth through the Ages: The Preacher and the Leading Lady:
Memories of our Summer 2014 walking tour: