Every Thursday and Friday evening at 7pm
July 5 to August 24, 2018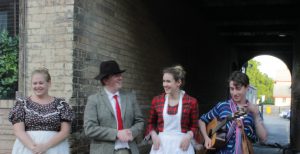 Meet at Matheson House Museum
11 Gore St. E. in Heritage Perth
For directions, click HERE.

---
TICKETS:
Adults: $15 per person
($12 per person  for Classic Theatre Festival ticketholders; proof of purchase required)
Children aged 12 and under:  50% off Adult Price

PLEASE NOTE: In the event of inclement weather, a decision regarding cancellation will be made one hour before each performance. Every effort will be made to notify advanced ticketholders of the cancellation.
---
2017 Lonely Ghosts Walk: The Beat Goes On

Starring: Keegan Carr, Emma Houlahan, Garrett Pipher and Connor Williamson, with Stage Manager Brooks Knapton
Directed by: Joanna McAuley Treffers
Written by: Laurel Smith
---
2016 Lonely Ghosts Walk: A Taste of Perth

A Taste of Perth told the tale of a famous distiller and his tempestuous relationship with a women's temperance leader. For pictures of this compelling play, CLICK HERE.
Starring: Morgan Macdonald, Garrett Pipher, Emily Richardson, and Connor Williamson
Written and directed by: Laurel Smith

---
2015 Lonely Ghosts Walk: The Trials of Daniel Daverne

Starring: Sean Jacklin, Morgan Macdonald, Vivian Masswohl, and Emily Richardson
Written and directed by: Laurel Smith
---