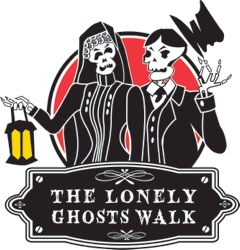 NEW STORIES EVERY YEAR!
Throughout 200 years of Perth's history, the unsettled spirits of our town have refused to go quietly into that good night until their stories are told. The Lonely Ghosts Walk opens June 29th with a new show, The Beat Goes On, about two battling female store owners from 1867 who are teleported back to 1967 Perth, where two friends try to manage the fraught counter-cultural divide during the year of Expo67.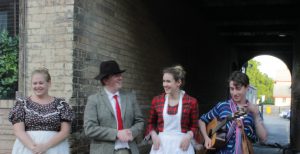 Every Thursday and Friday evening at 7pm
June 29 to to August 25, 2017
Meet at Matheson House Museum
11 Gore St. E. in Heritage Perth
For directions, click HERE.

---
TICKETS:
Adults: $15 per person
($12 per person  for Classic Theatre Festival ticketholders; proof of purchase required)
Children aged 12 and under:  50% off Adult Price

PLEASE NOTE: In the event of inclement weather, a decision regarding cancellation will be made one hour before each performance. Every effort will be made to notify advanced ticketholders of the cancellation.
---
2017 Lonely Ghosts Team
(Click on name for bio.)
Director: Joanna McAuley Treffers
Playwright: Laurel Smith
Stage Manager: Brooks Knapton
Cast:
Keegan Carr
Emma Houlahan
Garrett Pipher
Connor Williamson
---
"The Beat Goes On" Production Photos
---
In 2016, A Taste of Perth told the tale of a famous distiller and his tempestuous relationship with a women's temperance leader. For pictures of this compelling play, CLICK HERE.
---
Enjoy our video from our 2015 Lonely Ghosts Walk and see what kind of fun you have in store!
---