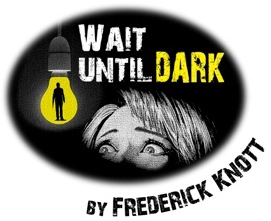 Thank you to everyone who attended our 2015 season and making it such a resounding success!!

Tickets on sale NOW for our 2016 season!


What Audiences are Saying:
JS, Toronto: "This is a really great show, when you can hear a pin drop in an audience who have been in their seats for an hour, no shifting, no movement, everyone seeming to hold their breath. This is when you know this show and these great actors have done their job!"
Perth Manor Boutique Hotel, Perth: Guests came back from the opening night show raving about this production!! Congratulations Classic Theatre Festival on another job/play well done!!
What the Critics are Saying:
Jamie Portman, Capital Critics Circle, "Perth Classic Theatre's Wait Until Dark Cranks Up the Suspense"
"Perth's Classic Theatre Festival delivers in spades in the production that opened over the weekend. Laurel Smith's direction is taut and decisive…" [more]
Iris Winston, Capital Critics Circle, "Wait Until Dark: Attention to detail, good acting make for a strong production"
"A strong production makes this drama well worth revisiting.  And the Classic Theatre Festival production of Wait Until Dark, directed by Laurel Smith, is certainly that. Most notable for its attention to detail…as well as a sensitive characterization from Alison Smyth as the feisty Susy, the tension builds with her realization that her various visitors are not what they seem…" [more]
Directed by Laurel Smith*
Set Designer Jennifer Goodman
Costume Designer Renate Seiler
Lighting Designer Wesley McKenzie
Sound Designer Matthew Behrens

Production Manager Ed Vopni
Stage Manager Jennifer Stobart*

Starring (in alphabetical order):
Greg Campbell as Roat*
Scott Clarkson as Sam Hendrix*
Richard Gelinas as Sgt. Carlino*
Sean Jacklin as Policeman
Alastair Love as Mike Talman*
Madison Miernik as Gloria
Samantha Salter as Gloria (alternate)
Alison Smyth as Susy Hendrix*
Behind the Scenes of WAIT UNTIL DARK, the DVD Extras!!!!

The second show of our 2015 season is the gripping Frederick Knott thriller Wait Until Dark, a heart-thumping tale of a blind woman who must fend off a group of seedy drug dealers and thieves who have invaded her apartment using a variety of ruses. Later a beloved Audrey Hepburn film, the stage version features some of the most intense moments Broadway witnessed in the 1960s.
Previews   August 7 at 2pm, August 8 at 2pm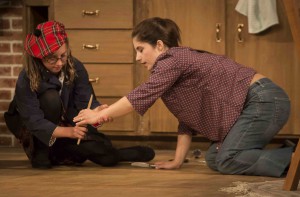 Opening   August 8 at 8pm
Performance Times:
Wed. to Sun. matinees at 2pm
Wed., Thurs. and Sat. evenings at 8pm
Prices:
Adult: $30
Youth under 30: $21 (30% off)
Previews: $27 (10% off)
Groups of 10-19: 10% off
Groups of 20 or more: 20% off
All tickets subject to a $4.00 box office fee.
Tickets and Information:
1-877-283-1283, ext. 1
ticketsplease.ca
Tickets Please, 39 Foster St., Perth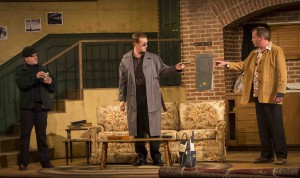 Our Venue at 54 Beckwith Street East:
For directions, click HERE.
For Barefoot in the Park, click here.
WAIT UNTIL DARK is presented by special arrangement with SAMUEL FRENCH INC.
*Appearing courtesy of Canadian Actors' Equity Association.