You can SAVE 25% off regular prices when you order a Full Season Flex Pass, which allows you to enjoy the savings now and the flexibility of choosing your dates next year when your calendar is firmed up. You will also SAVE 20% if you order one or two shows as well.
Here's the 2017 lineup, one that features a majority of Canadian playwrights who made it big on Broadway during our mandate period (just in time for Canada's and Ontario's 150th!)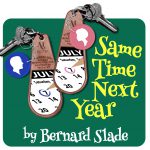 Canadian Bernard Slade's classic comedy Same Time, Next Year, the Tony- and Oscar-nominated story of a two people, each happily married to someone else, who annually get together for a weekend over 26 years, sharing their lives, dreams, hopes and challenges from the early 1950s through the mid 1970s. It ran for 3 years on Broadway and became a beloved Hollywood film starring Alan Alda and Ellen Burstyn. (June 23 to July 16)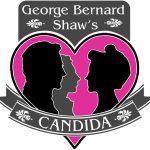 George Bernard Shaw's Candida, a witty skewering of Victorian notions of love and marriage in which the title character must choose between her clergyman husband and a passionate young poet. It's the kind of play that makes you both laugh and feel all warm inside as Shaw gently pokes fun at our collective foibles. (July 21 to August 13)
Canadian Peter Colley's I'll Be Back Before Midnight, a Hitchcock-styled psychological thriller that is the most successful play ever staged in Canada and the most produced Canadian play abroad (in over 30 countries!). A young couple from Toronto buy an old country farmhouse, and that's when apparitions start to appear, strange noises are heard, and every moment that draws you to the thrilling finish keeps you on the edge of your seat. (August 18 to Sept. 10)
To order your discount vouchers for 2017, simply visit www.ticketsplease.ca
We will also return with new theatrical historic walking plays for the morning Perth though the Ages and evening Lonely Ghosts Walk. Stay tuned for details.
In the meantime, don't miss this great opportunity to save money on next year's entertainment, with tickets that make great gifts anytime.
The 25% discount savings sale runs only until December 31, 2016. May you enjoy all of the coming seasons until we see you again.