At the May 2 Swing into Spring Big Band Extravaganza at the Civitan Club, fans of the British comedy film "Brassed Off!" will be able to meet someone who actually played in a similar brass band in England. The annual fundraiser for the Classic T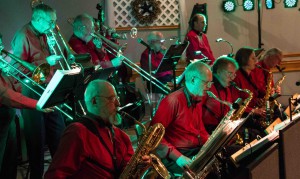 heatre Festival opens the doors at 6:30 pm, with free dance lessons at 7 pm and an evening of swing tunes from the 30s to the 60s, a silent auction, and cash bar. The popular event has plenty of room both for dancers as well as those who like to sit back and listen to the music and leave the fancy footwork to others.
Alan Wilkinson, who for years was music director of the outstanding Standing Room Only big band, will as usual be in the front row playing tenor sax along with his bandmates on May 2, jiving on tunes that are backed by six decades of musical experience. Originally from a northern England town in Lancashire, the career metallurgist started piano lessons as a teenager but really wanted to play cornet in one of his town's five brass bands. England had a long tradition of such bands, which were often sponsored by a colliery or local corporation.
"It was a way of life in those days to join the band," Wilkinson says from his farm just outside Clayton, where until recently he bred rare Suffolk Punch heavy draft horses. "It produced a lot of camaraderie as well as a desire to create great music." Some bands hired professional players, and Wilkinson says "their musicianship was second to none." Others, sponsored by towns and churches, may not have been the tightest of groups, but nonetheless provided a creative outlet for those who may not have been inspired by their day jobs.
Wilkinson, who eventually took a job at Rolls Royce Aero Engines, went with that company's band to the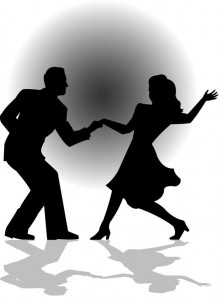 National Brass Band Championships of Great Britain, located in London. Since 1945, bands from across the UK have competed to play at the signature event, and although they didn't win, they appreciated playing before a national audience. Wilkinson also played for a time with the Nottingham Police Band.
He eventually drifted from the brass section to the reeds, playing clarinet and saxophone. Following a year-round Land Rover trip around the African perimeter in the mid-1970s, traversing the Sahara Desert and West Africa, he immigrated to Canada for a job with Canadair in Montreal. While his new country did not have a brass band tradition, he continued to play a variety of music, from jazz to Dixieland. His perch in SRO playing big band music is one he particularly enjoys, especially given the audience reaction to the music.
"It's wonderful when people come up to you and say how much they enjoy the music and the dancing," he says. "It gives me a great sense of fulfillment. I like the sound of the music when we play. While the lyrics of the great American songbook are quite witty, I really enjoy the colours and harmonies produced by the instruments."
As the band's long-time music director, he was responsible for making sure the players were in tune, hitting the right notes at the right time, and making the music come alive, something those who've attended past Standing Room Only dances have always commented upon.
Tickets to the dance are available by calling Tickets Please at (613) 485-6434. Individuals who would like to contribute to the "Save-a-Dance" program, which opens up free tickets to those otherwise unable to afford to attend, will receive a tax receipt.