One of the first times actor Chris Zonneville ran into Rachel Fischer, his co-star in the Classic Theatre Festival production of Neil Simon's comedy "Barefoot in the Park" (running July 10 to August 2), she knocked out one of his teeth.
The two first met while performing in a series of Disney Cruise Lines musicals, as part of "Toy Story: The Musical" casts. The cruises would launch from Cape Canaveral and end up on Disney's private island in the Bahamas (where the movie "Blow" was filmed). On a second tour, they saw each other for the first time in eight months and, in a manner common to the theatrical tradition, went for a friendly hug.
"But as we went to hug each other, a guy walking nearby accidentally bumped her from behind, so she butted me in the face and broke out my fake tooth. It was funny, and also a bit awkward, but we were chipper about it and went on," Zonneville laughs. Little did he know then that the two would work on a show as a battling young married couple years later in Perth, in the roles of stuffed shirt lawyer Paul and his free-spirited newlywed wife Corie.
Then again, accidents can have a funny way of determining one's destiny. Zonneville's path to a life on the stage began when an accident kicked him off the elementary school basketball team. So when his mother needed boys for the chorus of the musical "Bye Bye Birdie," he suddenly had some free time and gave it a shot. Like many a youthful performer, he was immediately struck by the unique experience.
"I finally found a voice that empathized with me when I got into theatre, and I love telling stories, which is the basis for theatre," says Zonneville. "I was very young at the time, and it just seemed very real and natural and I was good at it," he says, noting that growing up in a sports-crazy town (Sarnia), his future as a theatre student was a bit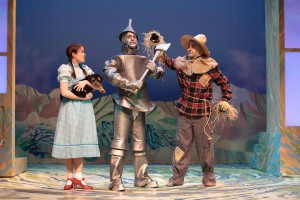 different from the career paths of many of his hockey-loving peers.
He was accepted at one of the top theatre schools in North America, Sheridan College, where he enjoyed the triple threat program (singing, dancing, acting) a few years behind Fischer. "It's a remarkable program, and you get back what you put into it, with a great staff who put in the time to make sure you get the training you want."
His first professional gig out of school was performing "The Mikado" at Southern Ontario's Drayton Theatre, and he has since performed across the country in a variety of roles, including a recent Thousand Islands Playhouse production of "Anne & Gilbert," as well as a remount of "Les Miserables" at the Princess of Wales Theatre in 2013. He says that musical was huge but very intimate at the same time.
"I will never forget our first public preview, and we sing this huge Act 1 finale song and 2,000 people who gave up just about anything to get a ticket to this show just erupted in applause," he recalls. "It was a sound and a feeling that is impossible to describe.
"The emotion was huge and it can be very broad, but the goal of the remount was to find the intimacy and honesty in this huge musical. I remember the first time we ran the barricade sequence with 8 or 10 other guys, and you find these real relationships in rehearsal. We asked, 'What would you do if you looked at your best friend and you were about to die?' which happens in that scene. To build and find those moments was a real focus."
That production was also important personally for Zonneville, who met his partner Mallory Reeves during the production. (When he leaves Perth the town in August, he will be living in Perth County, Stratford, where Reeves i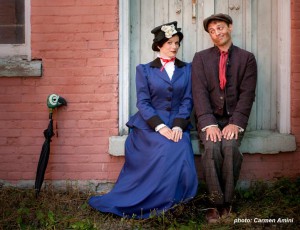 s working as a wigmaker at the Stratford Festival.)
Zonneville's life continues to take serendipitous paths. As someone interested in becoming a beer sommelier, a few weeks before he came to town he ran into a man in Toronto with a car full of Perth Brewing product. "Here I am in this city of millions of people and I meet this guy from Perth. I didn't get his last name, it was just Bruce from Perth, and he was the nicest guy. I like that feel in a community, and look forward to spending more time with it."
Zonneville is enjoying rehearsals for "Barefoot in the Park," given "it's such a universal play. Things haven't changed a lot in the last 50 years in many ways when it comes to relationships. Audiences will totally relate to the arguments that Corie and Paul have and the tender beginning of married life."
Tickets to the Classic Theatre Festival are available online at classictheatre.ca or 1-877-283-1283.