If the legendary comedic playwright Neil Simon was sitting down today to pen Barefoot in the Park (the 10th-longest running play in Broadway history), it's quite possible he might have taken his inspiration from Rachel Fischer. She is the energetic Toronto/New York-based actor who will star as the free-spirited Corie Bratter in the Classic Theatre Festival production of this beloved marital comedy opening July 10 in Perth.
Fischer, whom television viewers might recognize as the dog groomer and first actor ever to be touched by the pain-killing Mr. Robax in a nationally televised commercial, has been performing since she could stand. "I was quite the comedienne and was always putting on shows and getting all my friends to take on roles and costumes, and I always loved making up stories," she recalls. "It was always a lot of fun to play, and now as an adult to be able to make a living playing on stage feels so much like home."
She grew up with singing and dancing lessons, and at the age of 15 was attending high school during the day and the Winnipeg School of Performing Arts by night, literally working around the clock while also taking roles in the North Kildonan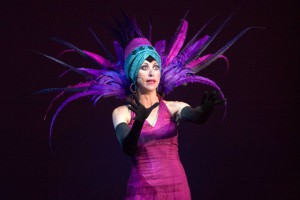 Community Players, a community theatre group run by her father for 17 years.
"I did drama in high school and was the girl who failed math and went from rehearsal to take a test in English class but was late, and the teacher said she could hear the tap shoes rushing down the hall as I tried to get there," she recalls with a laugh.
After playing in her first professional gig at Manitoba's Rainbow Stage as a chorus girl in Crazy For You, she subsequently entered the highly-regarded Sheridan College Music Theatre Performance Program, which graduates "triple-threat" performers who sing, dance, and act. "It's a whole other beast, because everyone comes from another school and feels like they're on top of the world, and suddenly you're thrown into this crazy world of reality and experts that teach you that it is not just singing and dancing, but that there's a real determination and stamina that you need to have in this business," Fischer says.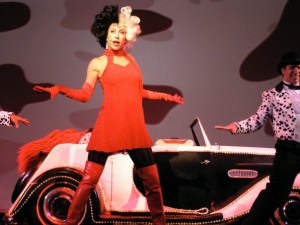 Fischer graduated early for a job at the Deerhust Resort (where Shania Twain got her professional start), and recalls sitting in the same dressing room where the country music star once put on her makeup.
Since then, Fischer has performed across Canada, in lead and featured roles in productions including The Little Years, The 25th Annual Putnam County Spelling Bee (Magnus Theatre), Anne of Green Gables, The Wedding Singer (Canadian premiere at Stage West), Footloose (Stage West Calgary), Good News, Chicago, and Grease at Rainbow Stage (Canada's longest-running professional outdoor theatre company).
While TV viewers know her for appearances in ads for everything from Staples to Mazda and her role in the W Network's Smart Women's Survival Guide, she also originated the role of Cheryl in the first professional Canadian company of the critically-acclaimed Evil Dead: The Musical (which won the Dora Audience Choice Award for Toronto's favourite show.)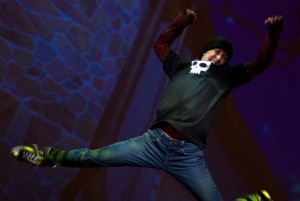 Fischer took to the waves with the original company of Disney's Toy Story – The Musical, portraying the role of the evil Sid. Earning rave reviews for her role, she was featured in Portholes Cruise Magazine and is on the cast recording, alongside Wallace Shawn, Don Rickles, and John Ratzenburger, from the original Pixar film.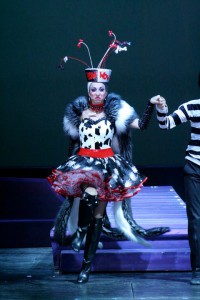 It was while on the Disney Cruise line that she first crossed paths with Chris Zonneville, her co-star in Barefoot in the Park. "Neil Simon is one of the most influential American comedic writers in the theatre world, and Barefoot in the Park is a whimsical, fun, and very real play," says Fischer, who has been boning up on her lines in NYC's Central Park while visiting her beau. "I feel like I'm parallel to this play because my great love lives in New York, and to have known that world, it reminds me of us. He's not a lawyer, like the character Paul in the play, he's an actor, but he is so logical, and we always joke that if he wasn't an actor he would be in law, while I am more like Corie."
While she loves all aspects of performance, she says she is looking forward to Barefoot in the Park because "while there's a place in my heart for it all, I also get excited to just speak words to a human being on stage without breaking into song."
"There's somethin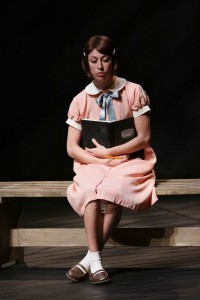 g very magical about those lights hitting you on stage and you know that no matter what, you are affecting people. People come to the theatre for many reasons, but whether there is something going on in their life good or bad, they sit there and watch and take something away. It's not up to us to make them feel a certain way, but it is important that we make them feel, think, and relate, and enjoy themselves all at the same time."
A certified yoga teacher, Fischer is looking forward to some quiet time in one of Perth's many yoga studios, as she finds the discipline – "focusing on connection, listening to your body, breathing" – are all important parts of the actor's profession.
Tickets to Barefoot in the Park (which runs July 10-August 2, 8 shows a week) are on sale at classictheatre.ca or by calling 1-877-283-1283. The 2015 Festival season is supported by the Ontario Ministry of Tourism, Culture and Sport, the Ontario Trillium Foundation and the Ontario's Highlands Tourism Organization.