While Covid numbers are thankfully in decline in the National Capital Region, wastewater virus signal and other reporting indicates the virus is still among us and severely affecting the most vulnerable members of our community.
Ottawa Public Health and Ontario's Chief Medical Officer of Health are strongly recommending that we all wear a well-fitted mask in any indoor and/or crowded public settings (like a theatre). For further information on COVID-19 in Ontario, please visit: https://covid19.ontariohealth.ca/.
Please consider masking up when you come to the theatre for the comfort and safety of fellow audience members, our staff and volunteers, and our unmasked performers. We can provide masks if you forget to bring one!
Please stay home if you are showing any symptoms at all or have been in contact with someone who is symptomatic. We're happy to exchange your ticket free of charge!
In addition, the Classic Theatre Festival is:
doubling the number of HEPA Air Cleaners
creating improved air flow of the theatre space
ensuring our card payment devices, cash registers, ATM and other devices used by staff and the public are being sanitized regularly.
ensuring our staff are following suggested protocols to keep themselves and the public safe, with frequent hand-washing, regular use of sanitizers, and wearing gloves whenever needed.
making soap and hand sanitizer readily available, and have increased the frequency of cleaning and disinfection for all high-traffic surfaces, before and after every show.
Thank you so much for your consideration!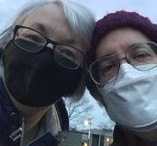 Laurel and Matthew
Laurel Smith, Artistic Producer
Matthew Behrens, Associate Producer