Following an award-winning 2022 season re-launch, the Classic Theatre Festival – a professional theatre company that produces hits from the golden age of Broadway and the London Stage – has announced a summer season in downtown Ottawa described as a "tonic for troubled times." The season features playwrights whose work is perhaps better known than their authors, even though both were prolific writers for stage and screen.
For a capital city dealing with the ongoing rancour of polarization, the professional Festival's combination of a rediscovered post-WW2 comedic gem set in Washington, DC, along with a mystery described by the Times of London as the "most fiendishly clever thriller ever written for the stage" promises thoughtful and humorous entertainment on its stage at Arts Court Theatre (2 Daly Avenue in Ottawa).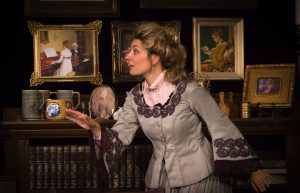 Legendary Broadway playwright and Hollywood screenwriter Louis Verneuil's Affairs of State is a funny and intriguing story about the tricky deals and double crosses behind closed doors in Washington, featuring a memorable love quadrangle that threatens the appointment of a new Under-Secretary of State. It's fitting entertainment for Canada's capital city where, political machinations are the life-blood of many a cocktail hour.
"Affairs of State invites us to revisit an age when satirical comedies were sophisticated, smart, sassy, insightful, and fun, with the wit and charm of the best Katharine Hepburn/ Spencer Tracy films," says Artistic Producer and Director Laurel Smith, who won the BroadwayWorld Ottawa Best Director and Best Play Awards for the Festival's 2022 production of The Fourposter.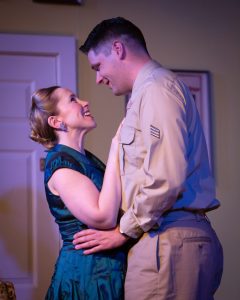 Though first staged in 1950 – it ran almost two years on Broadway –  Affairs of State's witty lines could be pulled from today's headlines, from "He's been a personal friend of mine for years, even if he is a Republican!" to "He is insignificance incarnate. He's allergic to thinking." While audiences may find themselves doing a double take to see Republicans and Democrats talking civilly with each other (few indeed may remember such a time), they'll also enjoy a European-style relationship comedy by the prolific Verneuil, who also write the 1946 Bette Davis film classic, Deception.
"Verneuil was part of theatre royalty, both for his own brilliant work as well as his fascinating family," Smith says. "He was the son-in-law of Belle Époque playwright Georges Feydeau, considered second only to Molière as France's greatest comic dramatist. He also wrote an intimate 1942 biography of legendary French actress Sarah Bernhardt (he was married to her grand-daughter at one point.)"
The Festival's 2023 focus on theatre legends extends to its second show of the season, the gripping, Tony Award-winning thriller Sleuth. The play is an ingenious story of a mystery writer whose obsession with the inventions and deceptions of fiction and his fascination with games and game-playing sets off a very dangerous and deadly chain of events. Smith says this rollercoaster of a thriller – equal parts mischievous humour and gripping anticipation – "continually puts the dramatic pedal to the metal, drawing audiences to the edge of their seats as they try to keep one step ahead of the increasingly desperate characters' life-and-death, cat-and-mouse battle of wits."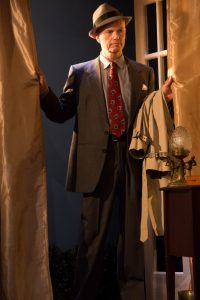 Sleuth is penned by Anthony Shaffer, who also wrote the screenplays for  Alfred Hitchcock's Frenzy, as well as Agatha Christie's Murder on the Orient Express, Death on the Nile, and Evil Under the Sun. His brother Peter Shaffer wrote the Tony Award-winning plays Equus and Amadeus. Sleuth was partially inspired by Shaffer family friend, the late composer Stephen Sondheim, and his intense interest in game-playing.
"In addition to getting your heart pumping, Sleuth is a remarkable comment on the British class system in the early 70s, a time when England was in serious decline and deep reflection, not unlike where the country finds itself now," explains Smith, who notes the film version of the play featured two sides of a generational divide, up-and-coming star Michael Caine and veteran actor Laurence Olivier.
Now entering its 12th summer season, the Classic Theatre Festival will continue its community programs as well, from a Loonie-Toonie Book Sale that supports its Save-a-Seat program (providing free tickets to low-income residents) to holding fundraising nights for women's shelters and refugee sponsorship groups.
"We love the era of the plays we produce at the Festival (1900s through the 1970s), when so much of what was happening in the world was reflected on stage in a way that helped inform and interpret out lives," Smith says. "The American author Joan Didion once wrote that we tell ourselves stories in order to live, and we strive to do just that. There's a universality to these stories that allows us to revisit and re-interpret them for our own lives."
Tickets are on sale now at classictheatre.ca or (613) 695-9330. Buy one play at the regular price and recieve 15% off the second play!
We are grateful that the production of Affairs of State is sponsored by The Hill Times.

Photo Credits:
Ottawa-raised Dana Fradkin, who delighted Festival audiences as Candida in a multi-award nominated production, returns in 2023 to play the role of Irene Eliot in the rediscovered comedy Affairs of State.
Douglas Walker (here with Lana Sugarman in the 2019 Festival production of The Voice of the Turtle) returns to the Festival this summer to play a prospective high-level US. diplomat in Affairs of State.
Greg Campbell, seen here in the Festival's 2014 production of Dial M for Murder, returns for Sleuth this summer after having starrred in numerous Festival mystery-thrillers, including Wait Until Dark and An Inspector Calls.
Photography by: Jean-Denis Labelle