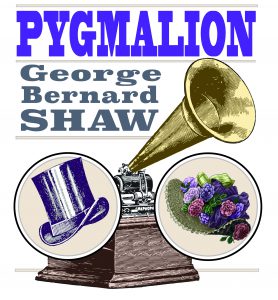 July 19 to August 11, 2019

Can a flower girl become a lady?
Director: Laurel Smith
Set Designer: Holly Meyer-Dymny
Costume Designer: Renate Seiler
Lighting Designer/Production Manager: Wesley McKenzie
Stage Manager: Jess Preece
Starring:
Jennifer Dzialoszynski as Eliza Doolittle
Jeffrey Aarles as Henry Higgins
Nicholas Rice as Col. Pickering
Ian Deakin as Alfred Doolitle
Elva Mai Hoover as Mrs. Higgins
Sarah Evans as Mrs. Pearce and Mrs. Eynsford Hill
Connor Williamson as Freddy Eynsford Hill
Mallory Brumm as Clara Eynsford Hill
Tyler Street as Cockney and Footman
---
Comic sparks fly when a bombastic professor of dialects tries to turn a working-class flower girl into an upper-class lady, in this most popular of Shaw's plays (the basis for the musical My Fair Lady). Full of unforgettable Shavian characters – Henry Higgins, Eliza Doolittle, Colonel Pickering, and Alfred Doolittle, among others – it's a legendary satire on class, gender, and particularly British mannerisms all served up with gentle and loving humour.
---
Pre-show Talks by Matthew Behrens, Associate Producer, explain the history, story, background, and social/cultural context of the play and playwright and are included with the price of your ticket. Pre-show Talks are presented at 1:30pm before each matinee, and at 7:30pm before each evening performance.
---
For Tickets and Prices, click here.
---
Our Mainstage Venue at 54 Beckwith Street East, Perth:
For directions, click HERE.
For The Voice of the Turtle, click here.
For Deathtrap, click here.
Our Walking Plays Venue at Matheson House Museum, 11 Gore Street East, Perth:
For directions, click HERE.
For Perth through the Ages, click here.
Our Classic Dinner Theatre Venue at Michael's Table, 110 Gore St. E., Perth:
For directions, click HERE.
For the Classic Dinner Theatre, click here.
---