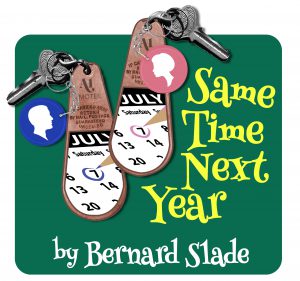 June 23 to July 16, 2017
New Performance Times!
Tues. to Sun. matinees at 2pm
Wed. and Sat. evenings at 8pm

The most successful Canadian comedy ever staged on Broadway.

---
What the Reviewers Say:
"Kudos to the Classic Theatre Festival for delivering a warm production with an authentic feel both in terms of the chemistry between the two actors and in being true to each segment of the period covered. As directed by Laurel Smith, this cohesive production features fine performances and great comic timing from Lana Sugarman as Doris and Scott Clarkson as George, enhanced by the quality of the technical aspects." Iris Winston, Capital Critics Circle
"There are only two characters on stage, but thanks to the performances of Scott Clarkson and Lana Sugarman, we are conscious of other lives at play — unseen lives, yes, but ones that assume their own reality in Laurel Smith's beautifully modulated production. These two performers take full advantage of Bernard Slade's crackling comic dialogue. They trade the funny one-liners  with an ease indicative of the potent on-stage chemistry existing between them. But there's also genuine tenderness in the relationship we're seeing. Sugarman, a delightful actress, gives us a Doris with a readiness to accept the funny side of life, but she also reveals a woman with the strength and resilience to respond to change and challenge within the emerging feminist culture of  the day. Clarkson, a nimble comedian, finds an unusual depth of character in George. He also is quite astonishing in giving us a man who is gradually getting older as the evening progresses. It's an achievement that goes beyond adding a moustache to the upper lip or pencilling a bit of grey into the sideburns." Jamie Portman, Capital Critics Circle
---
Canadian Bernard Slade's classic comedy is the Tony- and Oscar-nominated story of a two people, each happily married to someone else, who annually get together for a weekend over 26 years, sharing their lives, dreams, hopes and challenges from the early 1950s through the mid 1970s. The play ran for 3 years on Broadway and became a beloved Hollywood film starring Alan Alda and Ellen Burstyn.
Production Team:
(Click on name for bios.)
Directed by Laurel Smith
Set Design by Roger Schultz
Lighting Design by Wesley McKenzie
Costume Design by Renate Seiler
Sound Design by Matthew Behrens
Production Manager: Wesley McKenzie
Stage Manager: Maureen Callaghan
Assistant Stage Manager: Sarah Williamson
Starring:
Scott Clarkson as George
Lana Sugarman as Doris
---
Same Time, Next Year Production Photos
Photo credit: J.D. Labelle
---
Pre-show Talks explain the history, story, background, and social/cultural context of the play and playwright and are included with the price of your ticket. Pre-show Talks are presented at 1:30pm before each matinee, and at 7:30pm before each evening performance.
For Tickets and Prices, click here.
Our Venue at 54 Beckwith Street East:
For directions, click HERE.
For Candida, click here.
For I'll be Back before Midnight, click here.
For Perth through the Ages, click here.
For The Lonely Ghosts Walk, click here.
SAME TIME, NEXT YEAR is presented by special arrangement with SAMUEL FRENCH INC.