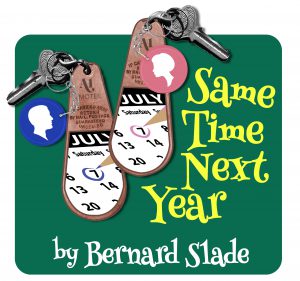 June 23 to July 16, 2017
The most successful Canadian comedy ever staged on Broadway
---
WHAT THE CRITICS SAY (Click here)

---
Canadian Bernard Slade's classic comedy is the Tony- and Oscar-nominated story of a two people, each happily married to someone else, who annually get together for a weekend over 26 years, sharing their lives, dreams, hopes and challenges from the early 1950s through the mid 1970s. The play ran for 3 years on Broadway and became a beloved Hollywood film starring Alan Alda and Ellen Burstyn.
---
Photo credit: J.D. Labelle
---
For Tickets and Prices, click here.
Our Venue at 54 Beckwith Street East:
For directions, click HERE.
For Candida, click here.
For I'll be Back before Midnight, click here.
For Perth through the Ages, click here.
For The Lonely Ghosts Walk, click here.
SAME TIME, NEXT YEAR is presented by special arrangement with SAMUEL FRENCH INC.