In the Classic Theatre Festival production of George Bernard Shaw's comedy Arms and the Man (playing until August 14 at 54 Beckwith Street East), audiences are first introduced at the top of the show to the romantic, young, passionate Raina, played with aplomb by multi-talented Toronto performer Lana Sugarman. This year marks her first season in Perth following three summers with the St. Lawrence Shakespeare Festival in Prescott.
A graduate of the stellar Sheridan Musical Theatre program – where the intensive program combines everything from clown and tap dance to writing and playing songs – Sugarman first got bitten by the theatre bug in high school. Although she had seen a good deal of theatre in Saskatchewan while growing up, it was English teachers encouraging their students to memorize and perform monologues, as well as a grade 10 musical, that convinced her that she enjoyed being under the spotlights. Sealing the deal was stepping in at the last minute for a dinner theatre role in the Alan Ayckbourn comedy Relatively Speaking.
Once out of school, Sugarman played in Romeo and Juliet and Othello with the Classical Theatre Project (which brings Shakespeare to schools) and then embarked on a 7-month, North American tour with the children's show Clifford the Big Red Dog. Recent roles playing Shakespeare on the St. Lawrence have included Audrey in As You Like It, Desdemona in Othello, and varied roles in The Merchant of Venice, Taming of the Shrew and Measure for Measure. "Playing Shakespeare in the outdoors is great fun and also an adventure, not least when an occasional duck walks into your scene or you have to play dead while being eaten by mosquitoes," Sugarman laughs.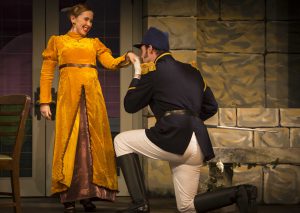 Playing Raina in Arms and the Man is a treat, she says, because "she has so much vitality. She is a petulant dreamer but also someone with a real imagination, a deep thinker, not to mention an only child, something I can relate to," Sugarman says. She finds that Arms and the Man and playwright Shaw "really cultivate a respect for reality, because he explores the romance of love and war, he questions those ideals, and for Raina, there is a real growth in her character."
Sugarman enjoys playing Shaw "because it's classical without being Shakespeare," and while she enjoys the smart and witty language, she notes that she "really hasn't been cast much lately in anything written after 1970!"
She's also enjoying her first summer in Perth, especially sitting in Stewart Park and running lines with Rachel Fischer (who plays the servant girl Louka, and who appeared in last year's Barefoot in the Park). "I love exploring new places and being in a beautiful town with a strong sense of community," she says, adding it's great getting to know the gentleman who is hosting both her and another performer.
When not acting, Sugarman, a certified yogini, teaches yoga in Toronto. She finds very close parallels between yoga and acting, from the joy of movement to the sense of inquiry that lies at the heart of both disciplines. "They are both about getting to the roots of things, exploring the self, and a class in voice and yoga are not dissimilar, given their connection to breath, challenging the body, and other related skills that can be transferred one to the other. Both make you feel nourished." She's also fascinated by how, as someone who enters the space of another character 8 times a week, actors disengage from that character. Indeed, audience members meeting actors after a show are often surprised to learn that the person and the character are different people.
To see Sugarman play out her journey in Arms and the Man, tickets can be ordered online at www.classictheatre.ca or 1-877-283-1283.