As July turns to August, there's still a few more opportunities to see the hit Classic Theatre Festival production of the Neil Simon comedy Barefoot in the Park, which runs until Sunday, August 2 at 54 Beckwith Street East in Heritage Perth, Ontario.
Thousands of visitors have joined local residents in applauding this production that the Capital Critics Circle praised as "bubbly and very entertaining," and which also drew the praise of JACK-FM morning man Wayne Cavanagh, who enthused: "Director Laurel Smith has a lovable cast making a Neil Simon classic fresh and fun. It makes me want a beige Princess phone and a 5th-floor walkup!"
The latter references the setting of the 1963 show, the 10th-longest running in Broadway history. A young married couple, conservative lawyer Paul (Chris Zonneville) and his free-spirited bride Corie (Rachel Fischer), butt heads in a tiny Greenwich Village apartment where the heat doesn't work, and February breezes freely flow through. Their clash of values, opposites attracting and sparking, is pure Simon, who has created many similar shows based on such dynamics, such as The Odd Couple (two divorcees, one of whom is a neat freak and the other a slob) and The Sunshine Boys (two vaudevillians are brilliant onstage but cannot stand each other in real life).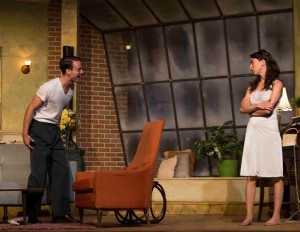 Much of the show's long-standing appeal is rooted in Simon's ability as a writer to parse the range of human emotions, and to show that seemingly intractable situations can be resolved through patience, determination, and a sense of humour that includes the ability to laugh at oneself. Throw in some wacky characters – from an overweight telephone repairman (Sean Jacklin) for whom climbing five flights of stairs is a trauma, and the vivacious, boisterous Victor Velasco (William Vickers) to the loopy Ethel Banks (Catherine Bruce), trying to find her way in life as a middle-aged woman – and it makes for the kind of entertaining matinee or evening that shines a new light on one of the great plays from the g
olden age of Broadway.
With the exception of Jacklin (a Perthite who is currently attending theatre school at George Brown College), all of the performers hail from southern Ontario, with two of them having performed in previous Classic Theatre seasons. With the support of local billeting hosts, they have enjoyed their stay in Perth, haunting local restaurants and shops while taking in some of the many summertime activities Perth offers, including fishing, kayaking, and learning lines in Stewart Park under a shady tree.
As Barefoot in the Park comes to a close, the theatre will be dark for a few days as the changeover for a new set comes in, this time for another Greenwich Village-situated show, Wait Until Dark, the gripping thriller that was made into a legendary Audrey Hepburn film. Running August 7-30, it will feature the professional debut of two area child actors, Perth's Madison Miernik and Smiths Falls' Samantha Salter, who will rotate the role of a 9-year-old girl who plays a key role in the plot.
Meanwhile, the Festival's youth troupe continues to trod the streets of Perth Wednesday to Sunday at 11 am with the historic theatrical walking tour, The Maid and the Merchant, as well as the Friday night Lonely Ghosts Walk at 8 pm. Tickets to the final week of Barefoot in the Park (as well as Wait Until Dark and the walking tours) are available online (where you can now choose your seats) at www.classictheatre.ca or by calling 1-877-283-1283.