Perth has become a summertime home for Toronto's Scott Clarkson, a performer now playing his sixth season at the Classic Theatre Festival with his starring role in the uproarious George Bernard Shaw comedy Arms and the Man, running until August 14 at 54 Beckwith Street East.
"Working at the Festival has been some of the most challenging theatre I've done, and hugely rewarding," Clarkson says.  "Perth has always fed the part of me that loves a quieter pace, beautiful architecture and green spaces, and a bit of history too.  And I've met so many wonderful people here: company members and volunteers, local merchants and theatregoers. I love this town."
Since 2011, Clarkson has reveled in roles "that have all satisfied something in me, a desire to communicate with the writers and actors and other theatre makers of the mid-20th century. It's given me a chance to explore parts played by wonderful actors on stage and in film: Hume Cronyn, Henry Fonda, Charles Boyer, Bob Cummings, even Kevin Kline (in Arms and the Man)."
Clarkson's role as Captain Bluntschli in Arms and the Man is a homecoming of sorts, reminding the veteran actor of his study in New York's HB Studio, where he first encountered Shaw's work. Clarkson says he very much likes the character he inhabits for his six weeks in Perth.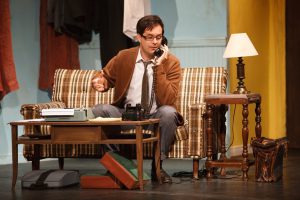 "I feel Shaw speaking his truth through him, and it's remarkable what Shaw has these people say at the height of the Victorian era!" he says. "Arms and the Man allows Bluntschli to show us the truth of a military life behind the romantic facade. The Captain has served nearly fifteen years, and the cost of this becomes quickly apparent.  Beyond the obvious exhaustion and fear that comes with losing a major battle and being on the run, he has of course seen and likely done many horrible things.  No Charge of the Light Brigade bravura for him. If he has anything in common with a literary figure it's the hero of Remarque's All Quiet on the Western Front.  Bluntschli figured out long ago that heroism can get you killed, and chocolate will keep you alive better than revolver cartridges. I see traces of him in the Marx Brothers' Duck Soup, in Catch-22, in M*A*S*H."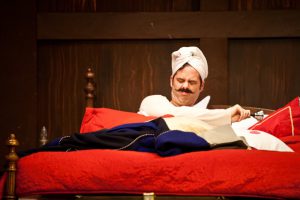 Clarkson says audiences can expect a lot of comedy in Arms and the Man, as Shaw "wrote with wit and insight and dared to pose questions about how people lived their daily lives.  He questioned everything.  Why is it we marry?  Why do we go to war?  Why do we value the things we do, and at what cost?  He doesn't strike me as a 19th-century writer; he was pointing the way to the next century, laying the foundation for all the artists who wouldn't accept a party line, from any government or church or military authority.  I wish he was here today."
When Clarkson isn't performing at the Classic Theatre Festival, he is involved in many other creative pursuits, from stage work in Toronto to the creation of podcasts. He became hooked on them a few years ago – particularly those related to popular culture, the arts, history, and politics. "I found myself filling in much time on public transit or dog-walking listening to them, and also got in the habit of listening to these when I couldn't sleep at night. Eventually I started writing and recording my own (Pretty Much: the Podcast, available for free on the iTunes Store) not least because I had been collecting a host of topics that would float into my consciousness at night.  Writing them down and crafting them into little pieces (5-15 minutes in le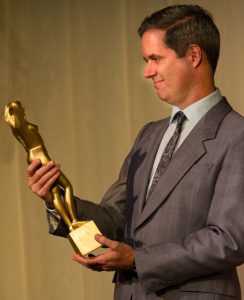 ngth) allowed me to articulate my thoughts on the music and film, TV and theatre that I have loved and been influenced by over the years, as well as telling personal stories about my family and friends.  The tone is all over the place, and the style changes from confessional to farcical to reportorial."
Clarkson's podcasts explore old-time radio tropes, and bits of audio tape from throughout his life are scavenged and used to piece together chapters of an ongoing saga.  There are over 60 episodes up there now, and more will be uploaded as well. "It's been a great complement to my stage work, allowing me to think as a writer and hone some home recording skills, too."
Arms and the Man runs until August 14, 8 shows a week, Wednesday to Sunday at 2 pm, with 8 pm shows Wednesday, Thursday, and Saturday at the Festival's home at 54 Beckwith Street East. Each show is preceded by half an hour with a talk exploring the story, the playwright, and the themes of the work as well. Tickets available at www.classictheatre.ca or 1-877-283-1283.