A body has shown up, and everyone on stage is a suspect. It's the starting point for An Inspector Calls, and what at first glance sounds like a familiar plot becomes, in the hands  of legendary British playwright J.B. Priestley, a masterful work that has thrilled audiences for over 70 years.
An Inspector Calls opens at the Classic Theatre Festival (54 Beckwith Street East in Perth) on August 19 and runs until September 11, with a plot that bounces back and forth with audiences trying to determine up to the very last line of the show who is ultimately responsible for the death of a young woman.
Set in 1912 on the eve of the First World War, the play is a gripping study of an era that is about to become completely unraveled by events that continue to shape the modern world, from the loss of "an unsinkable ship" known as the Titanic to the fiery cauldron that is now being recalled a century later as the First World War.
As the show begins, two British families are celebrating a "family merger" of sorts when young Sheila Birling announces her engagement to the well-to-do Gerald Croft, whose family business represents not only great wealth and security, but also a potential business merger for her father, Arthur Birling, with Croft's father. As characters reflect on the inevitability of their continued success in what seems an impermeable bubble isolated from the world without, a knock comes on the door, and with it, the mysterious Inspector Goole arrives to ask some questions.
In the same way many European societies are about to come apart in 1912 and 1913, so it is with this family, as Goole's investigation begins to draw out very suspicious activities on the part of each and every character on stage. There will be times when even audiences members will feel they could be called onto the stage for questioning or tapped on the shoulder to determine if they had any role in the death of the young woman.
An Inspector Calls is one of the most successful British plays of the 20th century, and has been the focus of a continuous National Theatre world our since 1991, in addition to being remade once again on film with a 2016 BBC show. The Classic Theatre Festival production, directed by Laurel Smith, features William Vickers (seen earlier this summer as the screenwriter Herb in Neil Simon's comedy, I Ought to be in Pictures) as the determined Inspector.
The cast also features a fine col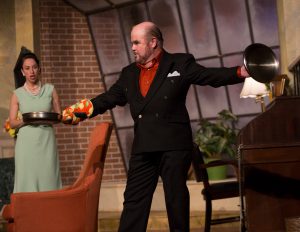 lection of Canadian talents who are both Festival veterans as well as newcomers to Perth. They include Greg Campbell as the Birling family patriarch (after his star turns in Dial M for Murder and Wait Until Dark) and Elana Post as his wife (Post is an award-winning actor, director, and independent filmmaker from southern Ontario who began her career in the 1993 Stratford Festival production of The Mikado). Gerald Croft is played by the multi-talented Fraser Elsdon, who performs on stage and TV while working as a playwright as well.
Sheila is portrayed by Anna Burkholder, a highly skilled British-trained performer who played in Timon of Athens with the U.K. National Theatre. Younger son Eric is played by Perth-born and raised Sean Jacklin, a recent graduate of the George Brown Theatre School in Toronto. Sean appeared last year as the bedeviled telephone repairman in Barefoot in the Park, and this season directed the two historic theatrical walking plays for the Festival (River of Memory and A Taste of Perth, which run until the end of August). Making her professional debut is another local talent, Breanna Critchley, who is playing the family maid, Edna.
Tickets to An Inspector Calls (as well as the theatrical historic walking plays) are available at www.classictheatre.ca or 1-877-283-1283.