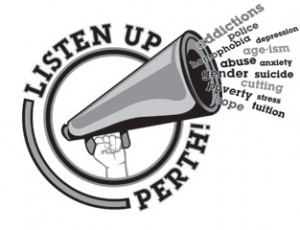 Four young people put Perth on the national map last week at a large Ottawa gathering, the Youth Centres Canada conference, with their performance of "Listen Up, Perth!", a new play that will premiere locally at the Perth Legion on Saturday, April 18 at 2 pm. Their performance, before young people from youth centres as far away as Inuvik, Newfoundland, and Squamish, BC, highlighted many pressing issues facing young people, from depression and suicide to bullying, assault, and hopeful alternatives that sustain them through difficult times.
"Listen Up, Perth!" was originally conceived by Perth teenagers Kai Archer, Kaija Evangelho, Tara Kreissler and Kaley Michelle McQuillan, in conjunction with Burning Passions Theatre Artistic Director Laurel Smith, who acted as dramaturge and director during the play development and production process. (Burning Passions Theatre, a professional theatre company, is the parent organization of the summertime Classic Theatre Festival).
Reaction at the conference was, in a word, visceral. Certain scenes clearly resonated with young people who have experienced violence in their homes, addictions, cutting, and other maladies affecting young people. Audience members enthusiastically applauded the show and asked if they could stage similar programming in their home communities. (Smith offered to act as a consultant for anyone wishing to undertake a similar project.)
"You covered so many issues in such an emotionally powerful way," commented one youth from Northern Alberta during a talkback session. "I wish we had something like this where we live." Other young people talked about their feelings of being disrespected by society at large and most adults in particular. When asked to give a verbal shoutout if they felt there were resources they could access to deal with the myriad problems they face, the room was silent.
But while services may be scant or inaccessible, those who took part in the play itself found it transformative. As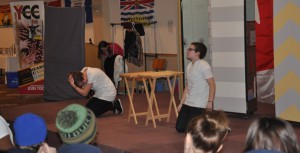 first-time performer Kaley Michelle McQuillan explained (whose roles include a bully, an anxious teenager, and an abusive parent), "I love this project because people need to be more aware of what's going on with teens, and that we need to be heard. I suffer from depression and it's been really hard because there are so few resources for teens nowadays. I have met new people who I became friends with, heard other stories about teens and what they have been through."
Being at the youth conference was for McQuillan "an amazing experience. When we performed it was amazing the expressions on the audience faces when we went through each scene. They were shocked how real our topics were, and they understood because these things have happened to them or people they know. People were crying, and it was an amazing feeling that we impacted them that much."
The youth troupe went through an intensive process of discussion and research, outlining the issues they wanted to work on, improvising scenes, and working with Smith to craft those scenes into a structured storytelling line. Smith and Associate Producer Matthew Behrens then took those scenes and created a play that incorporates music, movement, and dialogue that is funny, poignant, and as relevant as today's high school cafeteria bull session.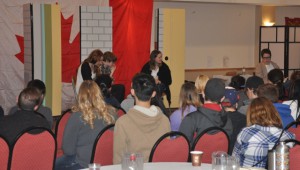 "This was an amazing experience, one that I will never forget," said fellow troupe member Kai Archer, a Perth high school student who plays a variety of roles from a teenager complicit in bullying to a reluctant participant in a suicide survivor support group. "I loved being involved in something where I could share my feelings, and not be afraid to show the real me. With the troupe only being a small group of four teens, it was easy to bond to each other and form a tight-knit pack. I loved performing at the conference. I think my favourite part was having people come up to you and talk to you after the show. I think each audience member took something away from the performance, or related to one of the topics in the show, and just knowing that we might have impacted people like that makes me happy."
Fellow Perth resident Tara Kreissler, who also plays multiple roles in the show from an angry parent discovering her child is interested in changing genders to a bullied new girl at school, said, "Being able to be in this play meant a lot to me. I was able to share my opinion without judgment, be the person that I am, and I got to make some killer new friends. When performing this play, I had no idea the emotional effect it would have on people. People were coming up to us with amazing feedback about the play, they were giving us hug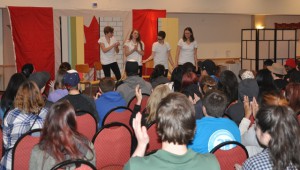 s and telling us how it made them realize that no one is alone in this world.
"No matter how terrible of a life you think you have, someone can relate to it. So many people were brought to tears when experiencing our play and that makes a person stop and think, 'I had an impact on this person's life,' and that is an incredible feeling. It reminds me of a quote that I think is very relevant to this time taken from a very well known Dr. Seuss story, 'a person is a person, no matter how small.'"
"Listen Up, Perth!" was produced in association with YAK Youth Services in Perth. The project received support from the Ontario Arts Council, The Basilian Human Development Fund, Kiwanis Club of Perth-on-Tay, the Sisters of Providence of St. Vincent de Paul, and the Grey Sisters of the Immaculate Conception, as well as the Royal Canadian Legion (Perth-upon-Tay branch), First Baptist Church Perth, St. James Anglican Church, and The Hub. The show plays at the Royal Canadian Legion at 26 Beckwith St. E. in Perth on Saturday, April 18 at 2 pm. Admission is by donation, and no one will be turned away for lack of funds. For more information call 613-264-8088.
All photos courtesy of Patti Vopni.