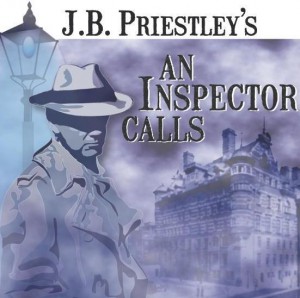 Running to September 11
Everyone is a suspect…


Rave reviews from Capital Critics Circle!
For production shots of An Inspector Calls, CLICK HERE.
Directed by Laurel Smith
Set Design by Lois Richardson
Lighting Design by Wesley McKenzie
Costume Design by Renate Seiler
Sound Design by Matthew Behrens
Production Manager: Wesley McKenzie
Stage Manager: Jennifer Stobart
Production Assistant: Vincent Bracegirdle
Starring:
Greg Campbell as Arthur Birling
Fraser Elsdon as Gerald Croft
Anna Burkholder as Sheila Birling
Elana Post as Sybil Birling
Sean Jacklin as Eric Birling
William Vickers as Inspector Goole
---
An Inspector Calls by J.B. Priestley is a nail-biter of a mystery in which a body has been found and everyone is a suspect. A new BBC-TV film adaptation is scheduled for 2016.
NEW THIS YEAR: Pre-show Talks explain the history, story, background, and social/cultural context of the play and playwright and are included with the price of your ticket. Pre-show Talks are presented at 1:30pm before each matinee, and at 7:30pm before each evening performance (excluding opening night).
Previews   August 19 at 2pm; August 20 at 2pm
Opening   August 20 at 8pm
Performance Times:
Wed. to Sun. matinees at 2pm
Wed., Thurs. and Sat. evenings at 8pm
For Tickets and Prices, click here.
Our Venue at 54 Beckwith Street East:
For directions, click HERE.
For I Ought to be in Pictures, click here.
For Arms and the Man, click here.
For Perth through the Ages, click here.
For The Lonely Ghosts Walk, click here.
---
An Inspector Call Photo Gallery