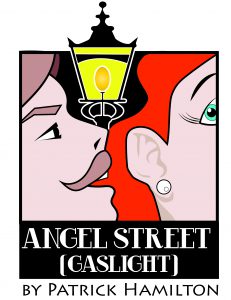 August 17 to September 9, 2018

Tues. to Sun. matinees at 2pm
Wed. and Sat. evenings at 8pm

A woman's sanity is questioned.

---
When seeds of doubt invade your mind, how strong is the pull towards insanity? In this gripping mystery thriller, a worried wife wonders if she is going mad. What is real and what is illusion? A 1944 film version, Gaslight, starred Charles Boyer, Ingrid Bergman, and Angela Lansbury.
---
Pre-show Talks explain the history, story, background, and social/cultural context of the play and playwright and are included with the price of your ticket. Pre-show Talks are presented at 1:30pm before each matinee, and at 7:30pm before each evening performance.
For Tickets and Prices, click here.
Our Venue at 54 Beckwith Street East:
For directions, click HERE.
For There's Always Juliet, click here.
For Mrs. Warren's Profession, click here.
For Perth through the Ages, click here.
For The Lonely Ghosts Walk, click here.
ANGEL STREET is presented by special arrangement with SAMUEL FRENCH INC.