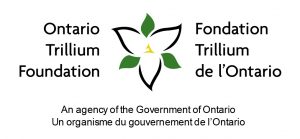 OTTAWA – In 2021/2022, Burning Passions Theatre received a $50,000 Operating Grant from the Ontario Trillium Foundation to sustain its operations during the worst period of the pandemic, when theatres were shuttered. The grant allowed the company to maintain its operations as it planned the re-launch of its marquee event, The Classic Theatre Festival, in August 2022.
"This investment by the Ontario Trillium Foundation to sustain Burning Passions Theatre was great news for many in our community," said Chandra Pasma, MPP for Ottawa West – Nepean. "The company plays a critical role as an economic driver that attracts visitors who eat in local restaurants, stay in our hotels, and invest in an economy recovering from the ravages of the pandemic. They also provide excellent training and mentorship opportunities for young people starting out in the job market and give back to the community through their Save-a-Seat program, making professional theatre accessible to everyone regardless of income status."
"The impact of this Ontario Trillium Foundation grant cannot be underestimated," said Laurel Smith, Artistic Producer of the company. "Not only did it allow us the time and space we needed to determine a sustainable future, it also meant we did not have to start from scratch when we emerged from the worst years of the pandemic. With a new box office system and more accessible venue, we are able to welcome back out loyal audience members who look forward to the return of live theatre."
Burning Passions Theatre's signature project, the Classic Theatre Festival, will run the classic Broadway marital comedy, The Fourposter, at Arts Court Theatre (2 Daly Ave, Ottawa) from August 5 to 28, employing dozens of young people as well as theatre professionals eager to get back on the boards. To learn more about their summer offerings visit bptheatre.ca or classictheatre.ca.
The Ontario Trillium Foundation (OTF) is an agency of the Government of Ontario, and one of Canada's leading granting foundations. Last year, nearly $112M was invested into 1,384 community projects and partnerships to build healthy and vibrant communities and strengthen the impact of Ontario's non-profit sector. In 2020/21, OTF supported Ontario's economic recovery by helping non-profit organizations rebuild and recover from the impacts of COVID-19. Visit otf.ca to learn more.
-30-
Organization Contact for Media Inquiries:
Matthew Behrens
Burning Passions Theatre/Classic Theatre Festival
(613) 695-9330
info@bptheatre.ca