The Classic Theatre Festival is gearing up for two major openings later this month, as its 8th summer season heats up in sync with significant anniversaries being marked across the land.
With Ontario and Canada both marking sesquicentennials, the Festival plans to present a number of works that both reflect where Canada was in 1867 and also to celebrate the most successful Canadian playwrights to hit Broadway during the company's mandate period (the 1920s through the 70s).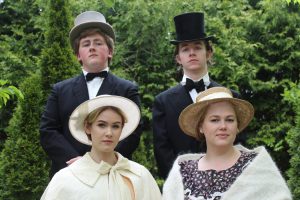 On June 21, Laurel Smith's new historic walking play, A Nation Lost and Found, opens the 4th season of the Perth through the Ages series of shows, highlighting key characters, stories, and themes in the town's heritage history. Directed by Joanna McAuley Treffers, it features four members of the Festival's youth theatre training program: Keegan Carr, Emma Houlahan, Garrett Pipher and Connor Williamson.
In this historical re-creation, audiences will observe Perth residents as they go about their daily lives at the time of Confederation. What were they thinking and talking about with respect to the birth of a new country: the forced dispossession of Indigenous peoples' traditional territories, the dynamics of the 1837 rebellion, the debates over the Fenian Raids? How did they handle the always tender terrain of courtship, love, and marriage? The hour-long, family-friendly historic walking play introduces viewers to the conflicts, challenges and everyday dreams of people who once lived inside the fabulous architecture that won the town the Prince of Wales heritage preservation prize.
"These plays remind us that it's a myth to say that Canadian history is boring," says Smith. "We get to dig a little deeper and find out that those who came before us dealt with major issues that, in many ways, still reflect a lot of the problems we still face today."
Smith felt it was important to point out that not everyone was celebrating the birth of a new nation in 1867, especially given the attempts – then as now – to destroy nations that have inhabited this land for tens of thousands of years.
"As a company, we feel it is vitally important to acknowledge that we live and operate on unceded, traditional Algonquin territory, and that the scars of centuries of abuse must be part of the conversation we have around the Canada and Ontario 150 events this year."
Smith points out that while the history of settler-Indigenous relations is often painful and shameful, there were non-Indigenous individuals who did speak up about the dispossession of Indigenous lands, pointing to the work of 19th-century whistleblower Peter Henderson Bryce, a medical officer who tried to expose the appalling conditions faced by Indigenous children forced into residential schools. Bryce is buried in Ottawa's Beechwood cemetery.
A Nation Lost and Found runs June 21 to August 27, Wed. to Sun at 11 am, starting at Matheson House Museum.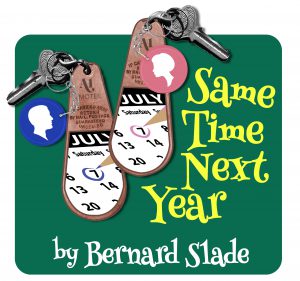 The Classic Theatre Festival, which on its mainstage produces hits from the golden age of Broadway and the London Stage, opens the most successful Canadian comedy ever to play Broadway on June 23: Canadian Bernard Slade's Same Time, Next Year, starring award-winning Lana Sugarman and Festival veteran Scott Clarkson.
"Audiences will savour the sights, sounds, and sensations of the post-war 'good years,' 1951-1975," says Smith. Written by the creator of TV shows including The Flying Nun and The Partridge Family, Slade's story about two people – each married to someone else – who meet for an annual weekend getaway over 24 years was a Tony-Award winner, and also nominated for numerous Oscars when it was filmed with Alan Alda and Ellen Burstyn.
"This show will not only appeal to folks who grew up as baby boomers, but also younger people who look back at this age of groovy music, wild clothing, and major social changes with a sense of awe, bewilderment, and fascination," she says. "It always amazes me to see teenagers who know the songs of the 60s sometimes better than people who lived through that time period. So the whole family will certainly enjoy this one."
The Lonely Ghosts Walk – which is expanding to Thursday as well as Friday nights – opens June 29th with a new show, The Beat Goes On, about two battling female store owners teleported to 1967 Perth – where two friends try to manage the fraught countercultural divide during the year of Expo67 – will open June 29.
The Festival's other shows – Shaw's comedy Candida, and Canadian Peter Colley's legendary Hitchcock-styled I'll Be Back Before Midnight – will round out a season that runs until September 10.
For tickets and more information, contact www.ticketsplease.ca or 1-877-283-1283.