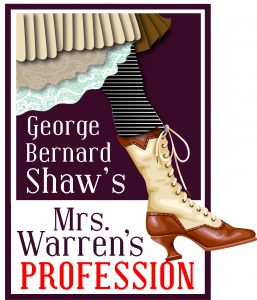 July 20 to August 12, 2018

Tues. to Sun. matinees at 2pm
Wed. and Sat. evenings at 8pm

Every mother has her secrets.

---
When Vivie Warren and her mother, Kitty, get together after Vivie's graduation from Cambridge, a classic mother-daughter conflict arises with questions about the source of Mrs. Warren's wealth in this warm, witty, and engaging Shaw classic. A tale of conventional morality and unconventional lives.
---
Pre-show Talks explain the history, story, background, and social/cultural context of the play and playwright and are included with the price of your ticket. Pre-show Talks are presented at 1:30pm before each matinee, and at 7:30pm before each evening performance.
For Tickets and Prices, click here.
Our Venue at 54 Beckwith Street East:
For directions, click HERE.
For There's Always Juliet, click here.
For Angel Street, click here.
For Perth through the Ages, click here.
For The Lonely Ghosts Walk, click here.
THERE'S ALWAYS JULIET is presented by special arrangement with SAMUEL FRENCH INC.