Fans of gripping psychological thrillers are in luck as the Classic Theatre Festival opens its annual mystery thriller,
Angel Street
(also known as
Gaslight
) starting August 17 in Perth. This story of an unsolved murder and the lethal mind games employed to protect the main suspect is considered one of the best plays of the genre, a cat-and-mouse struggle for survival that leaves audiences on the edge of their seats until the final curtain.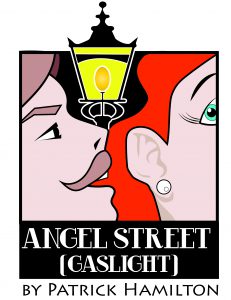 Angel Street takes audiences back to Victorian-era London, and nights of thick fog and shadowy figures lurking in the distance. Its author, Patrick Hamilton, also penned another mystery mega-hit, Rope, which became an Alfred Hitchcock film, as well as a series of novels that in recent years have been rediscovered and acclaimed for their insights into the underbelly of London and the lives of those living on the margins.
When Angel Street opened on Broadway, it catapulted its young male lead, Vincent Price, into superstardom, while also providing a plum role to Canadian-raised actor Judith Evelyn. When a British film version was made in 1940, all the negatives and prints were bought up and destroyed by MGM, which preferred to keep the story for its own star, Ingrid Bergman.
Anyone familiar with the popular social media term 'gaslighting' – whereby manipulators intentionally set up misdeeds or falsehoods and then question the sanity of victims who challenge what is going on – will recognize why the term was inspired by this play. Written at a time when modern psychology was becoming a critical reference point in popular culture, the idea of gaslighting rapidly became a signifier of abusive relationships on both personal and political levels.
Starring in this all-time classic is Jeffrey Aarles (returning after his lauded role last season as a conflicted minister in Shaw's Candida) and Jessica Sherman, who has spent over a dozen years training and working on the UK stage. Also appearing are a trio of performers seen on stages across Canada as well as on TV and film: Sheldon Davis, Darla Biccum, and Lauren Horejda (who played the haunted target of gaslighting in last year's I'll Be Back Before Midnight).
Before Angel Street opens, there's still time to catch George Bernard Shaw's wickedly satirical take on social hypocrisy, Mrs. Warren's Profession, a story about the reveal of a family secret, the men who dance around its uncomfortable truths, and an epic mother-daughter showdown. It continues to play on the Festival mainstage until August 12.
Those interested in street-level theatre can continue to enjoy the annual walking plays, with this year's stories set during World War II. The Prisoner of Petawawa runs Wed. to Sun. at 11 am while the musical tribute to war brides, Far From Home, plays Thurs. & Fri. at 7 pm.
With 16 shows per week, the Classic Theatre Festival, running until Sept. 9, offers something for everyone. Tickets are available at ticketsplease.ca or 1-877-283-1283.