By Matthew Behrens, Associate Producer, Classic Theatre Festival
July 4, 2020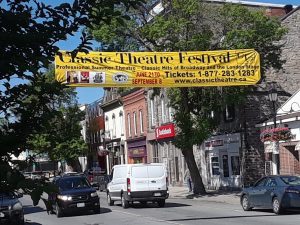 It's the first Saturday of July, and, as a creature of habit, I bolt out of bed, my mind ticking off an extensive checklist. It's a three-show day in Perth, Ontario, so there's lots to do.
A rapid succession of questions speeds around my mind like particles in a semiconductor. I need to open the database and check the final audience numbers. Are any free seats available for latecomers? Is the concessions stand fully stocked? Do we have enough of the ever-popular ice cream sandwiches? Which summer student working front-of-house will be in the parking lot to welcome the senior bringing three boxloads of summer reading for our massive book sale?
More questions. What does the weather radar show, as we have a full complement attending our outdoor historic walking play at 11 am? How are the numbers for Tuesday's dinner theatre show? Is that group from Casselman on time to arrive at Michael's Table for lunch? Are all the props needed for rehearsal lined up and ready to go? How early can I call the person who left her sweater in Row C at yesterday's matinee? Call back Perth Manor to let them know we were able to find a seat for their guests at the Sunday matinee. Will I remember to bring a visiting actor that extra pillow they had requested?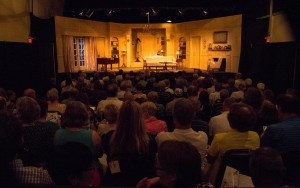 I sit by the phone (before 10 am, the box office number goes to our home to catch the early bird inquiries, and they often start coming in at 7:30 am!), as I anticipate waving to my partner, Artistic Producer and Director Laurel Smith, heading out for rehearsal for our second mainstage production. During such busy times, we are like ships passing in the night.
But today, as I sit in front of the computer, stare at a silent phone, and wonder why I haven't seen Laurel leave yet, a bolt of reality shuts down the superconductivity pinging in my brain. Right. Yes. It's 2020. There's a pandemic on, and live theatre with full houses is not taking place anywhere on the planet for the first time in centuries. Centuries. Think about that. While storytelling has been around since the beginning of our species, that unique quality of sharing tales in a certain physical space with other human beings is, during this time, too dangerous to risk undertaking.
Like theatre companies around the globe, ours is going through a truly existential crisis amidst a larger context, where billions are suffering the fear and pain of something that could strike out of the blue, scientists are racing to find a Covid-19 vaccine, and animated discussions conclude that our collectively destructive way of life will continue to produce such crises unless we seriously change our ways. For those of us who work in the live arts, we face critical questions about how – and if – we can ever get back to gathering in enclosed, packed spaces to laugh, cry, and sing together as we enjoy the inspiration coming from the stage.
As the summer of 2020 has progressed, my mind, my spirit, and my body – muscle memory being what it is – have been going through a series of reminders that I need to be at a certain place doing a certain thing, only to recall that it's simply not happening this summer, in which was to be our 11th summer season. It might not happen next summer. Amidst the uncertainty, I think about what I miss.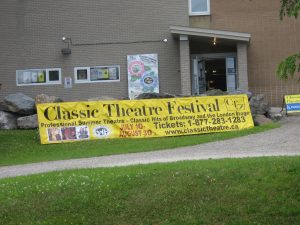 For ten years, the Classic Theatre Festival in Perth has produced a large community family, and hundreds of thousands of memories: the individual experiences and insights of audience members; the shared camaraderie of often perfect strangers who come together for an intense six weeks of rehearsal and performance and leave as lifelong friends; working closely with wonderful designers and production managers who create the stunning layout of the theatre itself and the look, feel and sound of each play; working with the awesome Ann Hawthorne of Tickets Please, our box office service; the growth of young people in our theatre training program who each year have learned the art of theatre by appearing in our historic walking plays (thoughtful and entertaining one-hour journeys uncovering the often less-than-savoury aspects of Perth's colonial past that also reflect on our current challenges); the stories of billet hosts who open up their homes and generously welcome out-of-town performers, technicians, and stage managers; the first job for shy teenagers who by summer's end have grown in self-esteem as they are assigned increasingly responsible roles; our partnerships with Associations for Community Living to provide job training and volunteer experience; the wonderful cross-generational dialogues that arise from bringing together teenagers and seniors in our front of house staff; the chats with staff at St. James Anglican Church, which annually hosts our festival in an auditorium that we transform into a professional theatre space.
As I think about all these things, I once again affirm to myself that, while it has been a lot of hard work, it also has been richly rewarding. Every year since 2010, the Classic Theatre Festival has presented unique experiences that have been founded on the power of timeless plays with wide appeal that leave audiences discussing the characters, themes, backstories, and presentation all the way home (and often up until they come to see our next show!). It feels like an extended family, as those first guests enter the theatre each June to say they are here for another year. They have recognized the young people who are working there for a second or third year. They have read the detailed wall displays that document the social, political, and economic context of each show on the stage. They have heard the music of the play's era as they enter the theatre space, which is surrounded on two sides by a massive loonie and toonie book sale, proceeds of which have gone to the Save-a-Seat program, which annually has opened up hundreds of free seats to low-income and socially marginalized community members who can attend in dignity. For many, it has been the first experience of professional theatre. Some have gone on to not only volunteer with us, but also receive job training and employment or job references.
Were this a pandemic-free summer, theatre guests arriving would be greeting us around 1:15 pm today at the front door, sharing their memories of the previous summer, maybe dropping off an antique prop or period costume they'd like to donate for a future production, and reflecting on the morning Perth through the Ages walking play that some have attended.
Last year's walking play, written by Laurel and directed by Joanna McAuley Treffers, focused on how Perth survived the Great Depression, with focus on the cruelties of the poor house (a historic building that is now a seniors' facility) and the mass common grave where hundreds were buried.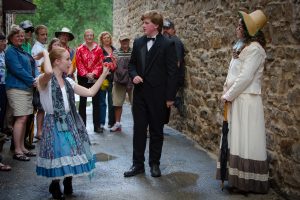 Previous years' shows (all penned by Laurel Smith) had focused on racism and internment during World War 2, the plight of veterans returning home with an affliction that had yet to be called PTSD, and colonial settler/Indigenous relations at the time of the town's founding on unceded, unsurrendered Algonquin territories. All inspired post-show discussions on how the plays' themes were reflected in contemporary realities.
The same youth troupe that did the morning walking plays five days a week also did a twice-a-week nightly Lonely Ghosts Walk (again, written by Laurel and directed by Joanna) that also brought to life the stories behind Perth's fabled architectural facades, from the secret trial of a soldier to violence against women and the often less than warm welcome faced by many war brides.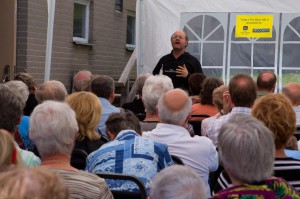 Meanwhile, it is getting close to the half hour. The theatre is filling up. As many enter the theatre, those who have found a unique collection of Virginia Woolf letters or a series of books on aviation history can be seen racing back to their cars to drop off their special book sale finds before returning in time for the pre-show talk, which explores the background of the playwright and sets the story in its historic time. It's an opportunity to fill in the blanks for people who may not understand some of the historical references in the play they are about to see, and also to draw parallels with similarly modern equivalents.
At five minutes before the show begins, the last of the ticketholders take their seats, and the energy is palpable. There is nothing like the feeling of an audience in anticipation of what they expect to be a delightful afternoon or evening. Once the house is in, the actors are shepherded down the long church hallway that leads from their dressing rooms in an area of the church known as the Crypt and into the backstage area. It is always an interesting "perp walk" in which characters from a distinct era (from the 1890s to the 1970s) strolls down the hallway, doing some last second vocal exercises, stretching, and joking before they hit the stage. And then the proverbial lights go low and the show is underway.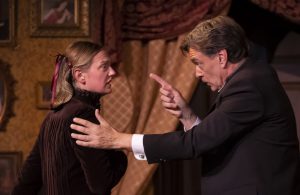 For the rest of the afternoon, there is a sharing between those on stage and in the audience, a symbiotic relationship that builds beautifully when everything is clicking. There is no other experience I can think of quite like it. Perhaps the most visceral representation of that connection at the Classic Theatre Festival was our 2018 production of Angel Street (aka Gaslight), an intensely frank 1930s exploration of psychological violence against women that builds to an explosive climax. Standing in the theatre lobby area, I could always feel audience members leaning forward, pulling for the heroine yet gripping their seats, unsure if she would survive the onslaught ahead of her. Listening to the audience respond (gasping at certain moments, calling out the abuser on stage, shaming certain awful things he was saying) was akin to the call-and-response of a southern Baptist church. The play does not reveal the final outcome until the last possible moment, and when it does, the audience would explode in relief and cheers. The curtain calls for that show were cathartic.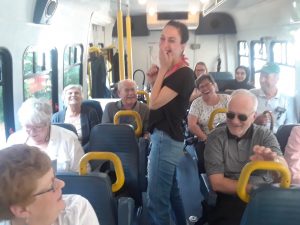 At the show's end, I would head to the front door to perform one of the favourite parts of my job: thanking people for coming, engaging in discussion about how they found the show, recommending a place to eat. Many stay around hoping to meet and thank the performers. Sometimes the actors board the soon-to-depart buses of seniors' homes and speak with their residents before they head back to Ottawa or Kingston.
As 5 pm rolls around, actors and technical staff would head off for their dinner break before starting it all over again for an evening show. Restaurants would be filling up with theatre guests and local accommodations would be welcoming new guests who had come to town to see one of our shows. That is another part of the summer I am missing: the wonderful feedback from our tourism partners who benefit from our bringing to town thousands of visitors. The Festival has been an excellent example of how theatre can be a major economic generator for a rural community (research reveals our audiences annually pump $1.5 million into the economy of a town of 6,000).
In a world where community is often so hard to find, the Festival has created a space every summer where emotionally connected experiences have been created, making us feel a bit less lonely in a world that can be cruel and merciless. During this summer of physical distancing, Laurel and I are missing that profoundly. So are our audience members, who have sent us lovely notes about how much they both miss seeing us this year, but also how they have loads of memories to lean back on when they too wonder why they aren't making their three summertime trips to Perth this summer.
Like everyone else, we are keeping our eyes on the headlines for signs of progress. We also stay in touch with our professional theatre associations as we work through the heart-wrenching discussions we as an industry must undertake. Given that most of us survive on shoestring budgets to begin with in a country where government and corporate arts funding is notoriously parsimonious, box office receipts determine whether we sink or swim. But for modest houses like ours (110 seats), the future necessity for physical distancing (and subsequently reduced audience sizes) could spell the difference between survival and disappearance.
As storytellers, we trust that we will find a way to continue doing what we love best. For many of us, though, the economic model may not look like it did in the past. We honestly don't know what it will like in the future.
On World Theatre Day in March 2020, our board of directors met and came to the difficult decision that there was no way we could proceed with our 2020 season. It was the responsible thing to do. We gather again in September to figure out our next steps. Even then, we may not know what the future holds, which means the Festival might again have to stay on hold. In the meantime, we are grateful for the blessings of those wonderful moments of time we have been able to share with so many during the past decade in Perth. No pandemic can ever take those away, for they lives in our hearts, our spirits, and in imaginations that we trust will be up to the task of the many challenges of this moment and what lies beyond it.